X-CUBE 90 – expert class ultrasound diagnostic unit – higher level of efficiency and understanding. X-CUBE 90 clearly displays the organs and structures that need fast and accurate diagnosis, has a user-friendly interface. With advanced ALPINION imaging technology and the latest diagnostic solution, more accurate diagnosis and faster resolution is now possible.
Take your diagnostic accuracy to a new level. Expand your skills and abilities!
Advantages:
X+ FIT is a new premium beamforming technology that delivers a clear ultrasonic beam. Massive parallel beamforming technology accepts a large amount of data and processes it at high speed
X+ Crystal signature - redesigned single-crystal phased, linear, convex and intracavitary transducers - significantly extended frequency ranges, increased penetration and improved resolution
Seamless window - unique acoustic lens technology for unparalleled sensor durability and alcohol-based disinfection
X+ SWE - shear wave elastography (spot and 2D)
X+ ATI - liver steatometry
Brilliant Flow - 3D display of blood flow in Doppler modes
Ultra-high frequency linear transducer, L10-15H, allows for clearer and more accurate mapping of superficial areas and subcutaneous structures, including the small saphenous vein and peroneal nerve
X+ Assistant allows users to reduce keystrokes by at least 50% and significantly save time during exams by programming the exam sequence
Sleep Mode and wake up in 6 seconds
Reduced dimensions of intracavitary probes by 20% for maximum patient comfort
20% reduction in volumetric convex probe size and weight for maximum clinician convenience
5 active  transducer ports and built-in gel warmer with 3 temperature levels
12.1" vari-angle touch screen
Real-time USB recording simplifies data storage by allowing users to record streaming video of ultrasound scans to a USB flash drive in real time
Antivirus Solution - an antivirus scan runs every time the system is turned on, thus protecting device data and patient information
VOCAL - 3D automatic calculation of the volume of formations
STIC - program for spatiotemporal correlation of fetal heart images
Clear Face - a program to automatically improve the 3D image of the fetal face
Silhouette Imaging - a new technology that gives clear contours of the three-dimensional image of the silhouette of the fetus and internal structures.
Auto biometry - automatic determination of the biometric dimensions of the fetus based on artificial intelligence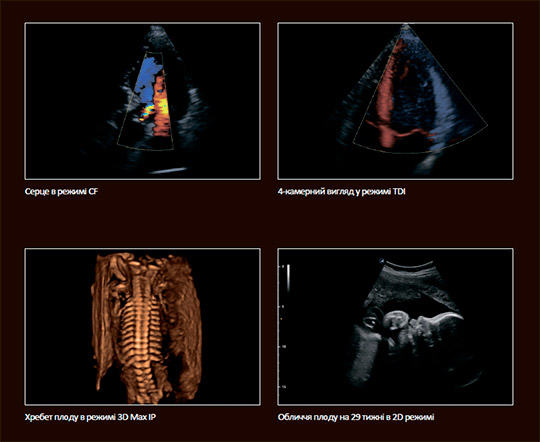 Get a high-quality, expert-class device at a  favorable price today!
WE OFFER:
2 year warranty for device and  transducers
reliable service and maintenance 24/7
warranty and post-warranty support
free delivery throughout Ukraine and training on new equipment
possibility of payment in installments
approbation of equipment in your medical institution
demo room visit
training courses and conferences
 For more information and a price offer for this model, fill out the feedback form on the website.