The  E-CUBE 8 DIA/ E-CUBE 8/E-CUBE 8 LE series will satisfy customers with different needs and possibilities through their modifications. A wide range of options for all types of research.
A unique price-quality solution. The successful design and ergonomic interface make this device an indispensable assistant in everyday practice. From the economic model E-CUBE 8 LE to the premium E-CUBE 8 DIAMOND with a choice of transducers and feature sets, it becomes possible to find your dream ultrasound machine at a reasonable price.
Advantages:
Optimal Imaging Suite™ Plus - More accurate data due to sharper differentiation of tissue boundaries and clearer display of different tissue textures
Xpeed™ - Simply press the Xpeed™ button once to quickly optimize the image in any mode for a variety of clinical situations
High performance transducers – high performance single crystal sensors (Crystal Signature™) and multi-layer C-Architecture sensors (PowerView™)
CUBE Strain™ is a non-invasive examination method used to more objectively assess myocardial function. This mode analyzes myocardial deformation in different 2D segments and demonstrates left ventricular contraction in a 3D model. According to the latest recommendations of international cardiologists, he evaluates both the left ventricle and the right ventricle and atria
Needle Vision™ Plus is a needle vision enhancement mode. In invasive ultrasound-guided procedures, the needle can be seen more clearly by adjusting the beam angle in three steps
Elastography - compression elastography for the diagnosis of neoplasms in the mammary and thyroid glands and cervical cancer. Qualitatively reflects the stiffness of tissues with the possibility of subsequent quantitative measurement of the relative stiffness coefficient.
Ergonomic interface and compact design
Duplicate scaling of the area of ​​interest during measurements
Possibility of built-in battery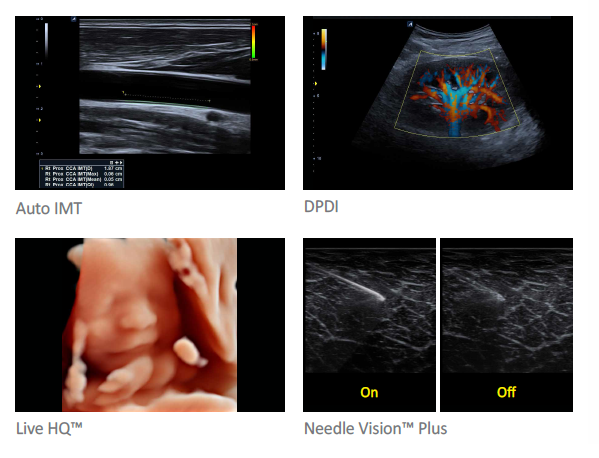 Get a high-quality device at a favorable price today!
WE OFFER:
2 year warranty for device and  transducers
reliable service and maintenance 24/7
warranty and post-warranty support
free delivery throughout Ukraine and training on new equipment
possibility of payment in installments
approbation of equipment in your medical institution
demo room visit
training courses and conferences 
For more information and a price offer for this model, fill out the feedback form on the website.