In order to import and sell medical devices on the Ukrainian market, it is necessary to undergo the procedure of conformity assessment with local Technical Regulations. There are clear standards for quality assurance of goods to be followed in any country.
The main task of the technical regulations is the safety of medical devices for the patient and the doctor. Therefore, the conformity assessment of medical devices with the technical regulations confirms the safety of use of the product. All medical devices of Medigran LLC meet the requirements of the Technical Regulations approved by the Decree of the Cabinet of Ministers of Ukraine and meet the established requirements for occupational safety and health. All equipment is registered and certified according to the legislation of Ukraine.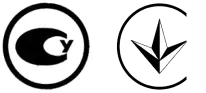 Manufacturers bearing the CE marking, ie having undergone the relevant procedures in European countries, fully comply with the requirements set out in the technical regulations. The presence of a national mark of conformity on a medical device guarantees the production of quality products. Medical and laboratory equipment, instruments, reagents of Medigran Ukraine LLC bear the following marking.
The medical devices of Medigran LLC with measuring function are designed and manufactured in such a way as to ensure the accuracy of measurement within the set accuracy limits taking into account their purpose. Measuring instruments comply with the essential requirements and relevant national standards and technical specifications.